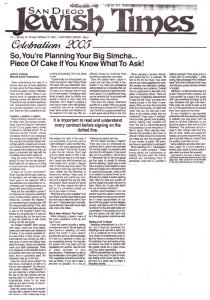 When entertaining the idea of a simcha, there are so many decisions to make about the three largest components of a party: location, entertainment and the caterer. Where to go, what to serve. An experienced event planning service like Mitzvah Event Productions may be able to assist you with venue/entertainment selection and contract negotiation, but on your own, there are many questions to ask.
Location, Location, Location
When choosing a venue for your Jewish affair, there are several considerations. Is the shul close by? Is the airport too far? Do my guests need to schlep to slobutki for Shabbat dinner? For an afternoon bar/bat mitzvah, choose someplace neutral to your synagogue and arrange bus transportation for the kids coming to the bar/bat mitzvah without their parents. A great touch is to plan your Sunday brunch at the hotel where yoor guests will be staying, so they can enjoy a convenient last meal with the immediate family before taking off.