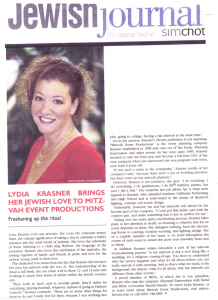 Freshening Up The Ritual
By Jessica Vachal
LYDIA KRASNER LOVES BAR MITZVAHS. She loves the symbolism behind them, the cultural significance of taking a day to celebrate a child's entrance into the adult world of judaism. She loves the solemnity of them, listening to a child sing Hebrew, the language of the ancestors. Krasner also loves the celebration of bar mitzvahs, the joining together of family and friends in pride and love for the newest young adult in their lives.
This dedicated love stems from the fact that Krasner did not have her own bat mitzvah until she was 21. Her understanding of the ritual is still fresh, she can relate well to these 12- and 13-year-olds working to attain their status of adults within the Jewish community.